Ningbo Yuhe Construction Machinery Co., Ltd
The company adopts scientific management and advanced production technology means to organize the production, now has formed from forging, mechanical processing, to heat treatment and other complete sets of production manufacturing technology and testing capacity, exquisite technology, superior performance, product quality stability.Based on the quality of the products and their reasonable prices, has been recognized in Europe, the United States and around the world, and enjoy a high reputation, but also with many manufacturers and wholesalers around the world to establish a long-term, stable and good business relations.
Here is the quick recap of product categories we covered:
Komatsu Tooth Pins
Caterpillar Tooth Pins
Hitachi Tooth Pins
Daewoo Tooth Pins
Kobelco Tooth Pins
Volvo Tooth Pins
Hyundai Tooth Pins
Liebherr Tooth Pins
Combi C-Locks
Plow Bolts
Track Bolts
Segment Bolts
Hex Bolts
customed bolts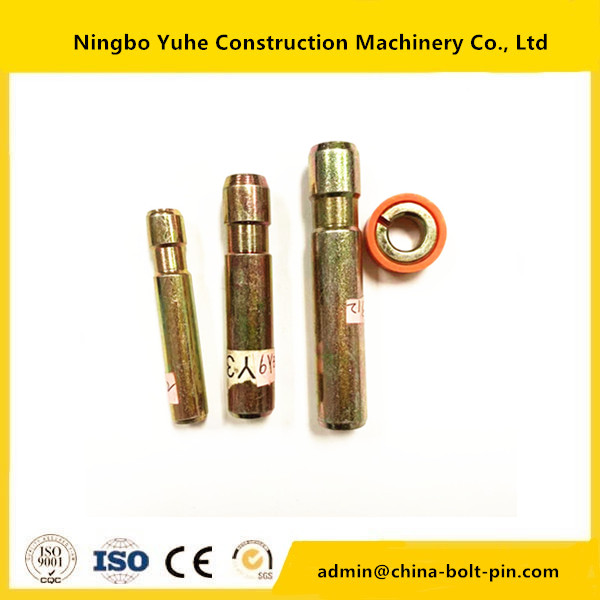 Today we briefly introduce the basic summary of carter bucket pin:
The shape of the carter bucket pin is similar to that of a tooth, and its components are mainly bucket teeth composed of a tooth seat and a tooth tip.In the corresponding production and manufacturing, it will be in accordance with the standard processing technology for the corresponding manufacturing.In terms of the current market economy, bucket pin in the people's application, has a wider range of applications.And when it is used, it is also convenient for people to use it.
When the cutter gear pin is used, it can be classified according to the use environment of the bucket gear pin. Therefore, it can be divided into rock rock, earth rock and cone rock when the parts are classified according to the corresponding types.In the corresponding classification of its components, it can also be divided according to the tooth base of bucket teeth, which can be divided into vertical pin bucket teeth, horizontal pin bucket teeth, and rotary bucket teeth.It can be seen that the bucket teeth have a variety of different classification.
If you want more information, please email:
E: yomico@china-bolt-pin.com
W: http://www.china-bolt-pin.com
---
Post time: Dec-05-2019